A small, discreet sensor measures your glucose just beneath the skin. The transmitter sends your readings up to every 5 minutes to a compatible smartphone. The Dexcom G6 app shows you where your glucose levels are and where they are heading.
The Transmitter snaps into the Sensor and sends real-time glucose readings wirelessly to your compatible display device or to an optional G6 Receiver via Bluetooth. The transmitter can be used for up to 3 months.
How Long Does a Dexcom G6 Transmitter Last?
The sleek, lower-profile G6 transmitter, 28% slimmer than its predecessor, is discreet to wear under clothing. The Transmitter snaps into the Sensor and sends real-time glucose readings wirelessly to your compatible display device or to an optional Dexcom G6 Receiver via Bluetooth.
The Dexcom G6 transmitters are rated for a life of 3 months. Sometimes, they will continue working for a few more weeks, but Dexcom recommends starting a new one every 3 months.
Descom G6 Features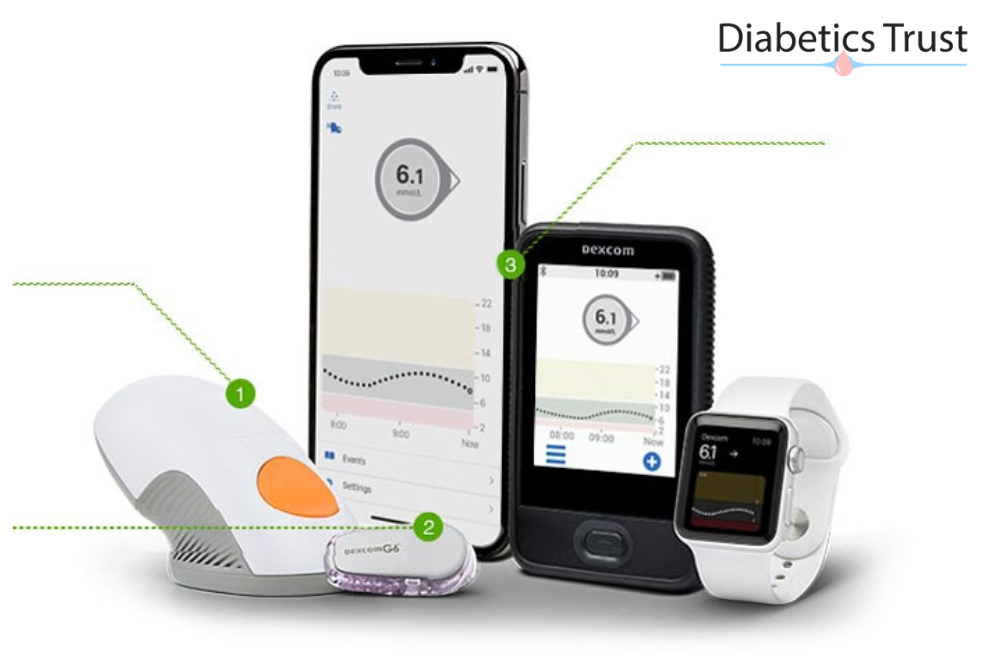 The Descom g6 consists of the following features in it:
1. Real-Time Readings Without Fingersticks
There's a better solution to your diabetes management that will give you the power to make informed decisions in the moment without stopping to prick your finger.† Getting started with Dexcom G6 is quick and easy.
If your glucose alerts and readings from the G6 do not match symptoms or expectations, use a blood glucose meter to make diabetes treatment decisions.
2. Small, Discreet Wearable
A slim sensor continuously measures glucose levels just beneath the skin and wirelessly sends your numbers to a display device via the attached transmitter.
3. Options to View Your Numbers
View your real-time glucose numbers on your compatible smart device, insulin pump, or a small Dexcom receiver. You can also use Dexcom G6 with compatible digital health apps and devices.
4. Simple Alerts That Keep You Informed
The Dexcom G6 app gives you the flexibility to customize alert sounds and settings to best fit your lifestyle. It can also deliver alerts before you go too low and when you're too high, enabling you to gain greater glucose control and peace of mind.
5. The Power of Time in Range
Studies show that Dexcom CGM use is proven to increase time in range (TIR).1-5 TIR is a powerful supplement to A1C because it shows a more complete picture of glucose variations.
How Descom G6 Works
Working of Descom G6 is not stressful at all. It works in simple steps and is not tough to understand.
a) Simple Auto-Applicator
A one-touch applicatoreasily inserts a small sensor just beneath the skin.
b) Sensor and Transmitter
A slim sensor continuously measures glucose levels just beneath the skin and sends data wirelessly to a display device through a transmitter.
c) Display Device
A small touch screen receiver or compatible smart device† displays real-time glucose data.
Dexcom G6 Components
Using the auto-applicator, patients or caregivers can insert the sensor and then snap in the transmitter. Once the system completes warm-up they will be able to view real-time glucose data from the transmitter via a patient's selected display device.
1. Auto-Applicator
Provides simple sensor insertion at the push of a button. A patient can apply the sensor on their own by following the instructions for use.
2. Sensor
Monitors interstitial glucose levels through a small wire inserted just underneath the skin, sending a signal to the transmitter (10-day lifespan).
3. Transmitter
Fastened on top of the sensor; sends data wirelessly to the wearer's compatible display device (3-month lifespan).
4. Display Device
Allows patients to view their real-time glucose data and trends. Dexcom G6 also enables patients to receive a suite of alerts, an Urgent Low alarm, and other notifications on their display device, which can help warn them of high or low glucose levels.
After discussing G6 briefly it is important to list all of it Pros and Cons.
Pros of G6
Sensors can be worn for 10 days (compared to 7 days in earlier models)
Easy, pain-free insertion with a one-button plastic applicator device that allows for one-handed insertions
You can't see the needle, as it retracts into the disposal inserter
Can be worn discreetly under clothing
Continuously tracks glucose levels in real-time and displays results on a smartphone app or receiver device
Can alert you if your blood sugar is trending high or low
A data-sharing feature allows you to share real-time data with up to 10 people
Has a silent vibrate-only mode for alarms and other customizable alerts
Water-resistant, so you can wear it during showers, baths, or swimming, and it can be submerged in pools up to certain depths
Acetaminophen (Tylenol) doesn't affect glucose readings
Cons of G6
Sensor may fail early before day 10, or could fall off the body
Can't easily restart if your sensor fails before the 10-day mark
You can't turn off the 55 mg/dL "urgent low" alert
Can be expensive with or without insurance, especially as the system requires a transmitter as and sensors that both need a prescription
Bluetooth signal may disconnect from your phone or insulin pump, making the data less reliable
Not compatible with all smartphones (make sure to check Dexcom's smartphone list)
Plastic auto-inserter is cumbersome and takes up storage and travel space
How Can We Be of Your Service?
Do you have extra unused diabetic test strips and want to sell them to make a room space, lower your burden and earn some cash. Our company is here to buy all of your unused test strips at a fair price.
FAQs: How Long Does a Dexcom G6 Transmitter Last?
Can You Change Dexcom G6 Transmitter Without Changing Sensor?
Yes, you can change the Dexcom G6 Transmitter without changing the sensor. To do this follow these steps:
End your sensor session.
Do not remove your sensor from your body. You can remove the transmitter by depressing the little retainer tabs inside of the bezel. I use a thin guitar pick, others have had success with a test strip, or thin credit card. You will hear a little click when it has popped out of one side. Repeat on the other side.
The transmitter will pop out quite easily. Wait 30 minutes (this is very important).
Insert your new transmitter and start the session in the usual way.
Keep your original code, that came with your sensor, with yourself as you will need it during the process.
Conclusion:
In this article we have explained in detail about Dexcom G6 transmitter and How long does a Dexcom G6 transmitter last? People should remember the lifespan of Dexcom G6 transmitter because sometime they forget it and go through tough time when it shuts off itself.